Packing for Summer Camp is a sure sign that the fun is getting closer. It's so exciting to work through that list and gather supplies. You may need to buy some items, particularly for a first camp, so give yourself plenty of time.
Most established Overnight Summer Camps will provide you with a packing list, based on the activities that they offer, so do check this first.
First time campers and their parents are often amazed at how much they need to bring. If the camp is ten days or fewer, they will probably not offer a laundry service, and as the campers will be busy doing lots of activities in all weather conditions, you should pack enough clothes to last them two weeks. For longer camps, laundry service will probably be weekly, so again two weeks of clothes is about right.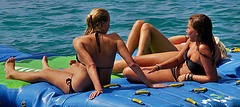 Luggage – In camps where there will be bunk storage in the cabin (for example a closet or drawers) it's best to use a collapsible trunk or duffle bag so that it can be squashed down and stowed away once unpacked. If the campers will be using the trunk as storage, opt for a hard trunk. Its definitely worth spending money on decent luggage, as it can last for years, taking your child through numerous camps and on to college.
Packing bags – Many camps and experienced parents recommend packing things in smaller zip-lock bags to keep them organised.
Here are some other things that you will probably need:
– a small pack for day trips
– waterproof coat and boots – there's likely to be at least some rain during the camp
– sun protection – a bandanna or scarf, sun hat, sunglasses and some high SPF sun protection are essentials
– a warm jacket and hat for evenings
– swimwear – at least two swimsuits, goggles, a swim shirt with UV protection and some water shoes (e.g. Crocs). Check your activity program too, if you'll be doing more water activities you may need more swimsuits or a wet-suit
– normal clothing and shoes – enough comfortable activity clothing for 10-14 days. This may include shorts, sweatpants, jeans, t-shirts, sweaters and two pairs of training shoes. Your camp may sell logo'd clothing or have a uniform, which will make your camper feel part of things straight away
– smart outfit and shoes – your camp may include a special party, celebration, religious service or event which you'll want to look your best for
– pajamas (at least two or three sets), flip flops and bath robe.
– underwear – enough for at least two weeks. It's a good idea to keep clean underwear together in one net bag, then to transfer it to another net bag when it's dirty. The dirty laundry net bag can go straight into the laundry as it is, keeping all the underwear together as it goes through the wash.
– special activity wear or equipment – check your overnight summer camp program to see what other equipment might be needed. We've already mentioned water activities, but you may need a hard hat and special clothing for horseback riding, to bring your own tennis racket, a leotard and dancing shoes, your own musical instrument, more specialized sports clothes etc. It really depends on the activities that you've signed up for, so check your program, and if you aren't sure whether to bring your own equipment, contact your camp organizer.
– Wash kit – It's a good idea to have a caddy to keep your bathroom essentials in. You may need toothpaste and toothbrush, shower gel, shampoo, soap in a soap box, feminine hygiene products, lip balm, hair brush and bands and hair-clips, nail clippers, shaving cream and razor.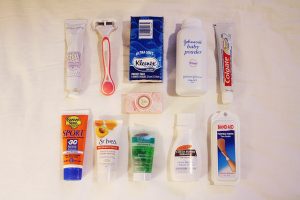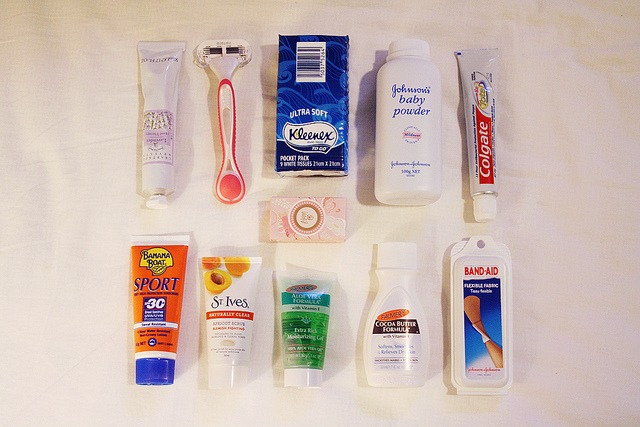 – Towels – hand towels, and at least two beach towels which can be used for swimming and showering.
– Other essentials – tissues, insect repellent, camera, flashlight and spare batteries, a refillable water bottle, a laundry bag, pre-stamped and addressed envelopes and writing paper, spending money (check with camp about the spending money policy), books or playing cards for entertainment for short periods and something to make the bunk feel like home – a soft toy, poster or family photo.
What not to bring – most camps have a policy against personal electronic devices such as phones, i-pods and gaming consoles, as the whole point of camp is to get away from all of that and make new friends. They also usually rule against electrical appliances such as hair driers and curlers for fire safety reasons, though they may allow a small fan. Don't bother with all the make-up – at camp nobody cares what you look like. Don't bring small valuables such as expensive jewelry.
As you gather supplies, write an inventory and pack a copy in the trunk. This will come in handy for your camper to check all the items back into the trunk at the end of camp. Now label everything, from the toothbrush to the trunk. Your child's name or initials should be on absolutely everything that goes to camp if you have any hope of it coming back again.
Gathering supplies, writing inventory, naming everything and eventually getting it all in the trunk is a really exciting task for you and your camper, be sure to finish off with a photo of them sitting on their luggage – now they are really ready for camp!