Did you know that sending your child off to overnight summer camp or day camp is one of the most rewarding and unforgettable experiences in his/her life?
Well, your child will experience more than you can ever imagine, and you will find it worth the expense and separation anxiety.
Here is a list of the top reasons why you should send your child to summer camp:
Overnight Summer Camp or Day Camp…
Boosts Self-esteem
Children that go to summer camps normally show significant increases in their natural self-esteem. They are more confident, less clingy, with an improved level of self-esteem. When children are away from their homes, they will have the chance to actually figure out who they really are outside all of their family's pre-conceived beliefs.
Encourages children to grow more independent
Summer camp gives children the perfect opportunity to practice making decisions on their own. They will have to learn to do more for themselves without parents and teachers guiding every move, making them more independent and self-reliant.
Fosters leadership skills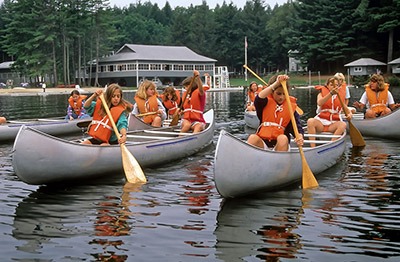 They will learn important leadership skills because overnight camps allow them to make choices and direct summer projects, which are natural leadership training grounds. In fact, these children feel empowered in every task they take on throughout their lives. As a matter of fact, they are more likely to set the pace and tone for other children and are less likely to be affected by peer pressure.
Make new and true friends
Camps are the perfect places where children meet many people from different schools, or even different countries and make best friends for a lifetime. They will be free from the social expectations pressuring them at school, therefore will be encouraged to relax and make friends easily and learn about different places and cultures.
Try new things
Most summer camps usually offer activities that you probably cannot do in your neighborhood like swimming and canoeing, horseback riding, rock-climbing, and archery. It is very likely that your children will be able to try new things. Camp keeps the summer interesting and the children might overcome their fears and discover talents they never knew they had.
Exposure to diversity
Your children will be exposed to people of all different background, religions, ethnicities, cultures, and races. Certainly, they might learn new languages, new cultural practices, and even try new foods. Is that not incredibly valuable? Well, as technology brings the world closer together, the children will definitely be learning how to properly interact with other people they will meet with later in life.
Reconnect with nature
Most overnight summer camps and day camps normally focus their activities and learning opportunities on nature and the outdoors. Outdoor experience develops children's perception of the world and greatly supports healthy child development. Without a doubt, this is a fantastic way to make your children environmentally aware, teaching them how to be kind to animals and plants.
Children get healthy
Most activities offered at camps are a great way to exercise and get fresh air. Basically, going to a summer camp is a much healthier alternative compared to hanging around at home, eating too much junk food, sleeping late, and sitting in front of the TV all day.
Want your child or teen to have this experience, please click here to get free, professional overnight camp assistance.