What To Pack For Sleepaway Camp
Not sure what to pack for sleepaway camp? It can be an overwhelming job, with hazards alike in bringing either too much or too little. Storage space in cabins is tight, yet there are heaps of personal items that your child needs to bring. It's critical to pack smart! Here are some guidelines to help you make the most of your child's allotted luggage.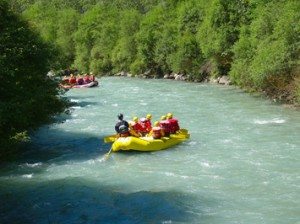 Determing Clothing Needs for Sleepaway Camp
Clothing will take up the bulk of what your camper packs for sleepaway camp. Deciding which clothes to bring is pretty straightforward. Think practical and think tough. A classic pair of jeans, the most sturdy pants around, are an absolute must. Leave the distressed or acid-washed denim at home, these fabrics have been weakened and won't hold up as well for hiking over rocky terrain or going horseback riding!
Other than jeans, shorts and t-shirts are the height of sleepaway camp fashion. Pack at least five sporty and comfortable pairs of shorts, preferably some with pockets for holding trip gear. No amount of short-sleeve t-shirts or tank tops will be too much. Use good judgment when choosing t-shirts and stay clear of any offensive slogans or graphics. Since there are bound to be at least a few cool evenings, one or two long-sleeve T's are also necessary. Leave room to pack at least one sweater or sweatshirt too. Reverse-weave cotton works well on dry days, while wool or other insulating fabrics are better for damp weather.
Depending upon where the sleepaway camp is located, the temperature may drop considerably after the sun sets. Make sure your camper packs a set of warm sleepwear in addition to summer pj's. A cotton terry cloth robe will also come in handy for the trek from the showers back to the cabin.
While cool and casual is obviously the look for sleepaway camp, dress clothes may be necessary for religious services and other formal activities, such as camp dances. Don't forget the classy details, such as a coordinating belt or accessories, and dress shoes.
On very cool or windy days, especially when hiking or sailing, your camper will be grateful to have packed a windbreaker or waterproof jacket. Washable, breathable, and insulated fabrics, such as Gore-Tex or Polartec fleece, are the most appropriate jacket options for sleepaway camp. Sweatpants or warm-up pants will be appreciated during activities that involve sliding on the ground, or when simply sitting on the ground during cool hours of the day. In addition, a durable and completely waterproof (not merely water-repellent) raincoat with hood is a worthwhile investment. For warmth on rainy days, Polartec vests or jackets can be layered beneath a thin raincoat.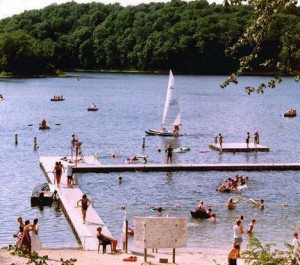 Considerations for Specific Types of Sleepaway Camp
In many sleepaway camps, campers spend just as much time in the water as on dry ground. Pack enough swimming gear and accessories for water activities! A few swimsuits made of quick-drying fabric (lycra or nylon) are essential. If your child is aiming for the swim team, be sure to bring a racing suit. Lightweight UV protective swim-shirts do a superb job at preventing painful sunburns. Pack at least two so your child will always have a spare. To keep eyes safe and reduce redness and irritation from chlorinated pools, swim goggles are another necessary accessory.
Laundry services will not be as frequent or dependable as they are at home. So while seven pairs of underwear and seven pairs of socks per week may sound logical, it's definitely not enough! There will be times when more than one pair/day is needed, and other pairs will naturally disappear to that unknown place where all socks go. Find out how often laundry will be done, and then pack underwear and socks for at least 1 ½ times the number of days between service.
Young women campers should apply the same rule to how many bras (it's advisable to bring both regular and cotton sports versions) they pack, and remember to bring a labeled net bag for laundering. Nylons and leggings are other compact items worth including. Young men may want to bring jock straps (athletic supporters) for engaging in active sports, addition to boxers or compression shorts.
Although footgear takes up a lot of space, it's not the place to compromise. Supportive and comfy sneakers are critical. If your child will be playing a specific sport, such as tennis or basketball, pack the appropriate types of sneakers. Cleats will be necessary for campers interested in field sports. Shin guards and soccer socks shouldn't be left behind for soccer players. Boots may be required for hikes and muddy trails. (If your boots aren't waterproof, buy some waterproofing solution and apply it in advance!) Sandals or flip-flops are high-risk footwear for sports games or hiking, and should be worn only for walking around camp or to and from swimming and the showers.
Stay ahead of the game – pack a hat and any other necessary headgear, such as scrunchies or bandannas. Not only are hats necessary to protect against harmful UV rays, but they'll also keep flyaway hair and sweat out of your child's face during fierce games and activities done under the sun. Sunglasses with high UV protection ratings are another important way to stay safe in the sun.
Spare pairs of prescription glasses or contact lenses are recommended, as well as a hard eyeglass case and an adequate supply of all solutions necessary for contact lens care. A rugged retainer strap (choose from a trendy selection of colors and patterns on the market!) is a great idea for keeping glasses and sunglasses in place during active camp days.
When the campfire embers die down and the stars sparkle high in the night sky, it's time to hit the sack. Some camps provide all bedding and linens, while other camps only give the bare elements. Check your camp info packet and verify the specifics of what your child will need. Generally, campers should pack 2 sets of sheets, and an insulating blanket and pillow. For children who are more sensitive, a soft mattress pad is also a good idea.
If the camp doesn't have furnished cabins for sleeping, you'll need to pack a cushioned bedroll and sleeping bag. Be sure to bring a sleeping bag that is big/long enough, and suitable for the environment. Most quality sleeping bags have a warmth rating; your sleepaway camp can advise you as to the rating indicated for their location.
Keep in mind that these are just general guidelines to help you pack for sleepaway camp. Don't forget to read through your camp info packet carefully for any specific requirements!