What to Bring to Sleepaway Camp
Packing for sleepaway camp is a big job involving many big decisions about what to bring and what not to bring. Make sure your child makes the most of the small personal storage space that each camper is given in their bunk. While everyone has individual needs and every camp has different requirements, the following guidelines are a general list to help figure out what to pack!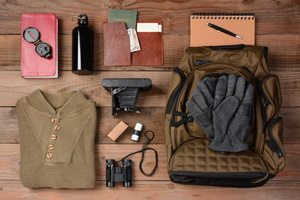 Different Sleepaway Camps = Different Needs
When it comes to clothing, items that can be layered are a good choice. T-shirts (short sleeve and long sleeve), lightweight sweatshirts, and flannels are all preferable to simply bringing one jacket. With layers, campers can remove or add clothing depending upon the temperature or weather conditions. Sturdy fabrics, such as denim, are always useful. Don't head out for a shopping spree before camp, it's a better idea to pack mainly old clothes. Be sure to label all items with your child's name.
Whether your child's sleepaway camp has a pool or a lake, water sports and activities are an integral part of the summer! Bring a few swimsuits, swim shirts with UV protection, accessories such as goggles and pool shoes, and depending upon the age of your camper, don't forget any necessary swim safety equipment.
A minimum of two towels, one for drying off after swimming and one for bathing, are needed so that a dry towel will always be handy. As for other linens, such as sheets, pillows or blankets, it's advisable to check with the specific sleepaway camp. Some camps provide all bedding, while others supply only the mattress and bed frame.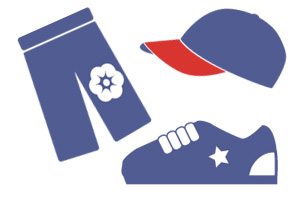 Sleepaway Camp Basics
Shoes and footwear will take up a large amount of the luggage space. From sneakers for daily wear, hiking boots, or cleats, your child will need to bring appropriate shoes for the camp activities that will take place. The specific footgear varies depending upon the camper's interests and the camp's programming.
Toiletries and all items for personal hygiene should be brought bundled together in a water resistant bag. Camp showers are frequently situated at a distance from the cabin, so a good organizing tote is useful. Your child may also appreciate a cotton terry robe or cover-up to wear for the trek back and forth to the showers. To list the basics, be sure to pack: toothpaste and toothbrush, shampoo and conditioner, soap, contact lens solutions (if needed), hairbrush and accessories, and deodorant. In addition to any prescription medication your child takes, a small first-aid kit will come in handy.
Other small items that are smart to bring to sleepaway camp are a flashlight and extra batteries or charger, mosquito repellent, and an ointment to apply on the inevitable bug bites every camper will experience! With hours spent outdoors, a few bottles of sunscreen (sprays and sticks are convenient) are also required to protect your camper's skin and prevent painful sunburns.
Every camper needs some spending money for the little extras, such as snacks and souvenirs bought during off-site trips. Inquire with the camp office or director as to how much money is appropriate to send. Depending upon how many souvenirs or gifts your child purchases, or how many craft projects are made, your camper may need an additional duffel bag for bringing everything that doesn't fit for the way home!
All kids big and small miss some of the comforts of home during their time at sleepaway camp. Save a little room in your child's luggage for some favorite pictures, knick knacks, or even a beloved stuffed animal to place on the bed. These nostalgic items may help if homesickness sets in!